Your bedroom should be your oasis. A place in your home where you can go to and relax, unwind and forget about a stressful day at work before getting a good night's rest.
There are a few essential things to consider when emulating the ideal atmosphere for promoting sleep, and the lighting you use in your bedroom has a lot to do with it.
Firstly, consider how bright the light bulbs are that you are currently using. This is measured in lumens. The higher the lumens, the brighter the globe. For your bedroom, you don't want to use bright globes. Softer lighting helps you to de-stress and unwind before falling off to sleep.
Wall lamps like the one below called Alba, are perfect for low lumens globes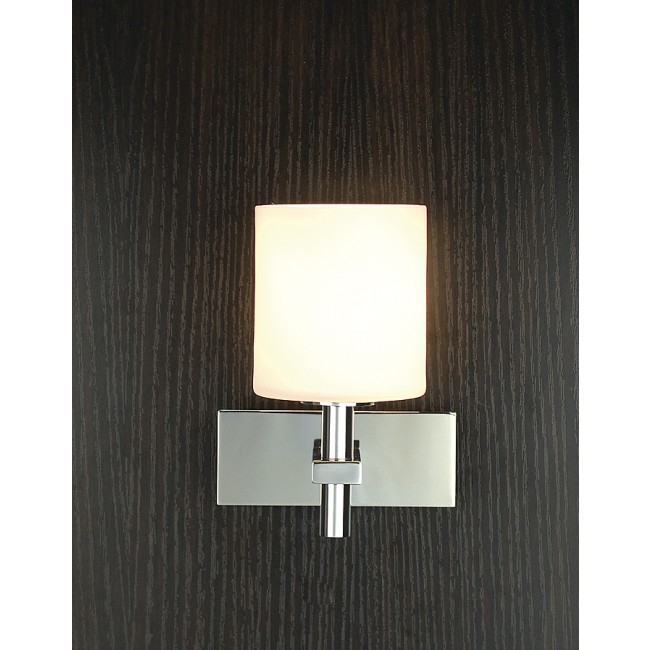 .
Ease of use is another important consideration. What we are talking about here is having easy to reach side table lights for example so you can turn them off and on when you like from the comfort of your bed. Overhead lights are great for when you are doing things in your bedroom during the evening like sorting out your outfit for the next day. But, when it comes to the perfect light for reading and convenience, matching bedside table lights are an important lighting staple for any bedroom. The Ola White Lace Table Lamp or Pepe Square Touch Table Lamp are two good examples of bedside lamps that would work well with both lower lumens globes and will be easy to reach.
Your room's decor will have a big impact on the style and colour of the lights that you choose to install. Think of the colour palette that currently exists in your room. Then decide on the overall theme you're going for. It could just be eclectic, contemporary or modern or it could be more specific. The main thing here is to know what your current bedroom style is so that you can purchase the right pendant and table lamps accordingly.
We love these two pendants (below) which will complement any colour palette yet provide a focal point for your design. Poul Henningson's Artichoke Pendant is spectacular and the Macre String Ball Pendant is understated yet elegant.
The size of your room will directly influence the style of lights you should buy. For example, ceiling fans and large pendant lights hangings from the centre of the room can crowd the space and make your bedroom look smaller. If you have a smaller bedroom look for pendant shades that cover light fixtures easily and seamlessly so as to not draw too much attention. Carefully chosen side table lamps are also important here to ensure you don't overwhelm the room with lights.
Lighting is an important element in any room of the home and in your bedroom it can also help to promote relaxation and rest. If you take all of the above points into consideration you'll be able to purchase the perfect lighting pieces for your bedroom.
| | | |
| --- | --- | --- |
| | | Katie Preston Toepfer is an author, writer, freelancer and content coordinator at GoLights.com.au. GoLights is an online retail destination offering premium lighting solutions for both residential and commercial applications. In 2013 Katie released her first book in conjunction with her blog, Wedding Dogs., |